Experience the transformative power of aerial, yoga, and dance.
World Tree Aerial has moved to Core Studio!
World Tree Aerial is excited to announce that we have found a new aerial home this summer, sharing space with the incredible Core Studio at 208 Flynn Ave in the South End. We have 4 rigging points in this gorgeous, light-filled studio, perfect to help our students continue to increase their technique and artistry. We'll be transitioning to the new space in June and offering regular classes, workshops, and camps beginning in July, 2019.

Thank you so much to Kathy Brunette and Core Studio for opening your doors to us! Please take a look at their rich offerings, including Aerial Barre, Barre, and Pilates, all of which are an incredible addition to your aerial training and overall fitness. North End Studio will continue to be a vibrant home for dance and community now housed at the O'Brien Center in Winooski, Thank you North End for three wonderful years of collaboration!
New Aerial Classes added on Sundays!
New Aerial Session begins Tuesday this week!
Aerial Yoga at Sangha Studio
Festival of Fools
We had a marvelous time at the Festival of Fools, thank you BCA and all of the sponsors of this terrific event! Performing on Church st and City Hall Park among our friends and community was very rewarding. The event staff was professional, creative, and endlessly energetic! Special thanks to Owen Leavey for going above and beyond his job of Company Manager and taking these gorgeous photos!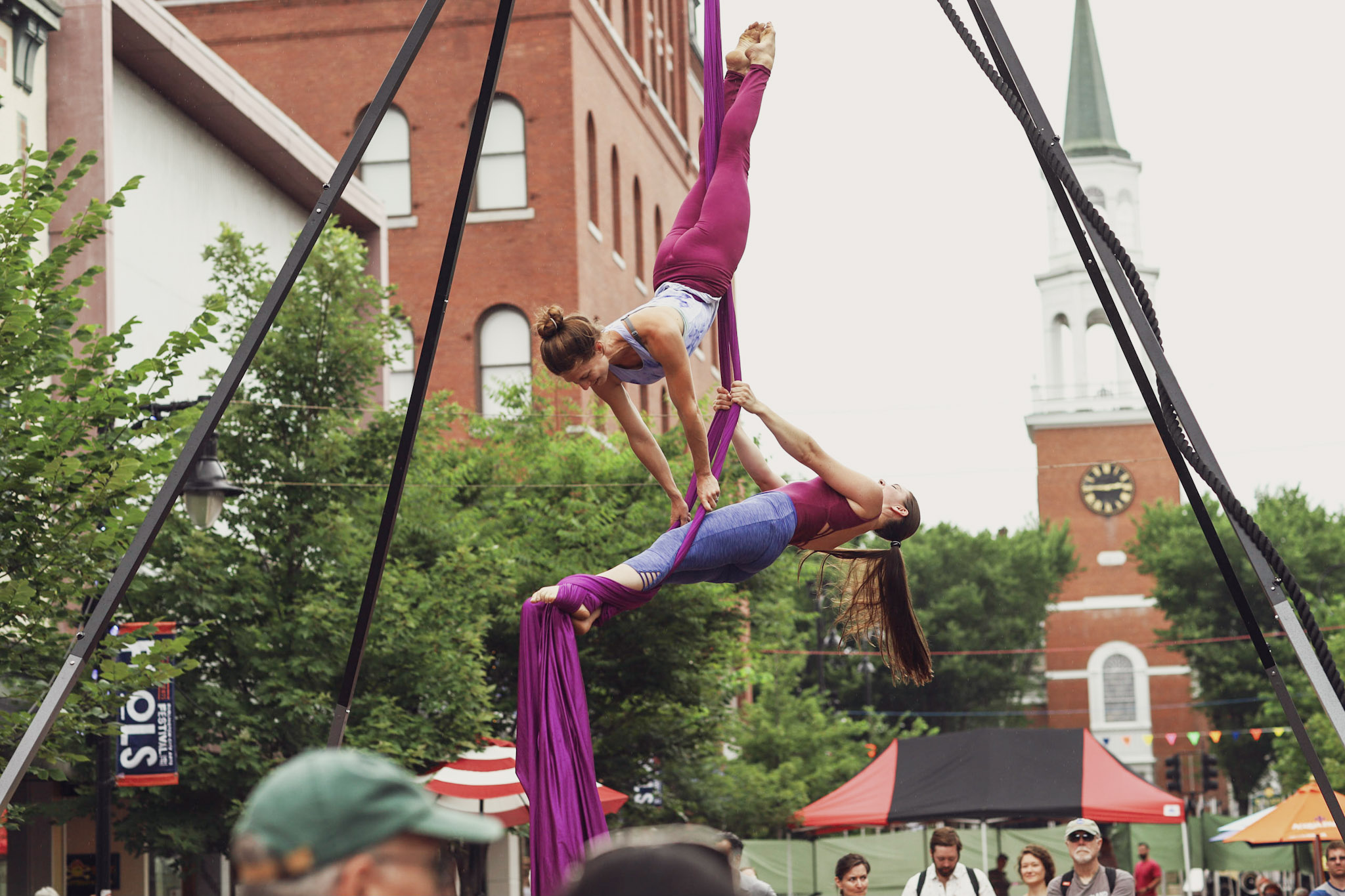 Read about us in Seven Days Thank you Elizabeth Seyler for the article and James Buck for the photograph!
"After hanging upside down in a full split, Nicole Dagesse shimmies up the aerial fabric to "stand" 12 feet off the ground. With the cloth strategically wrapped around hips and thighs, she leans sideways in a whole-body arc and then tumbles forward in a dramatic somersault to stop, still wrapped, inches above the floor." Elizabeth Seyler from Seven Days, August 1st, 2018
Contact Nicole Dagesse with questions!